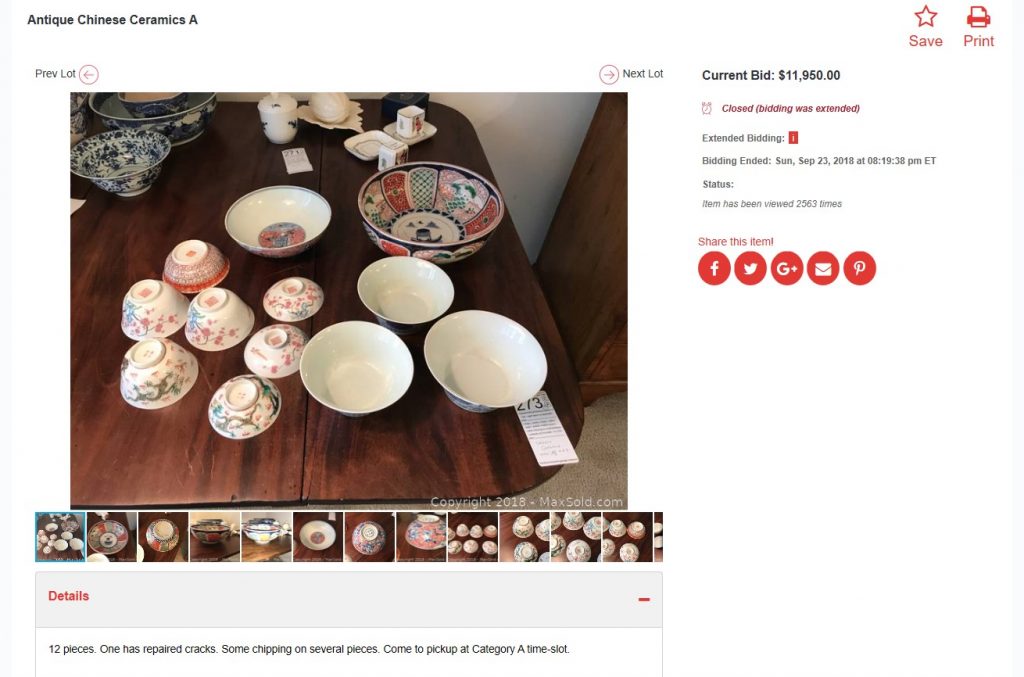 Want to know what $12,000 looks like?
My client and I worked with MaxSold to liquidate her Mother's estate. Among mom's possessions were several antique Chinese ceramics that had been passed down from her father (my client's grandfather), who was born in Hong Kong. Thanks to MaxSold's excellent marketing reach an auction house specializing in fine, rare and valuable works of art, jewelry, antiques, and collectibles was able to secure the lot. Starting price – like every lot in a MaxSold auction – $1!
The entire auction consisted of 75 lots spanning everything from Chinese antiques to a closet full of cleaning supplies and everything in between. By the end of it 100% of items sold and all were picked up by their buyers within a matter of hours. The client had zero hassle, an empty apartment ready to turn over and a nice chunk of change in her pocket.
Now, not everyone has valuable Chinese ceramics sitting around, but a household full of everyday items can fetch a pretty penny too. And don't forget – buyers are responsible for packing and transporting their purchases, so disposal costs are minimized or nonexistent.
I want you to be 100% comfortable with me before moving forward. When you are ready we can schedule a FREE one-hour onsite consultation to make sure all your questions are answered.